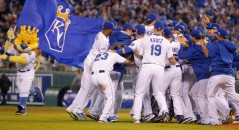 The Kansas City Royals is a baseball team that has been an active franchise in the MLB since 1969. They have played in Kauffman Stadium since 1973, and formerly in Municipal Stadium.
Throughout the course of their history, the Royals has won the World Series championships once, when they defeated the St. Louis Cardinals in seven games 1985, with Bret Saberhagen being named the MVP.
A total of seven players that have played for KC have been inducted into the Major League Baseball Hall of Fame, in Cooperstown, including: George Brett .
In 2014, the KC Royals finished second place in the American League Central with a record of 89-73. Team leaders included pitchers James Shields with 14 games won and 180 strikeouts, Yordano Ventura with a 3.20 era, and Greg Holland with 46 saves. On offense, the Boys in Blue was powered by Norichika Aoki with a .285 batting average, Alex Gordon with 19 and 74 RIB, plus Jarrod Dyson with 36 stolen bases.
Key additions to Ned Yost's lineup made in the 2014/2015 offseason include: Alex Rios, Edison Volquez, Kendrys Morales, and Kris Medlen.
Read more
Past Kansas City Royals events
Sep 30, 2017
Kansas City Royals - Arizona Diamondbacks
Kauffman Stadium
Kansas City
Sep 28, 2017
Kansas City Royals - Detroit Tigers
Kauffman Stadium
Kansas City
Sep 22, 2017
Chicago White Sox - Kansas City Royals
U.S. Cellular Field
Chicago
Sep 20, 2017
Toronto Blue Jays - Kansas City Royals
Rogers Centre
Toronto
Sep 17, 2017
Cleveland Indians - Kansas City Royals
Progressive Field
Cleveland
Comments
Reply sent!
There are no comments yet. Leave yours!