Click the map to find places near the venue to get something to eat or drink: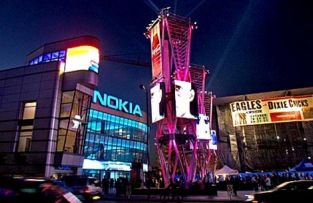 Los Angeles' Nokia Theater is a 7,100-capacity live performance venue located at the L.A. Live complex in the city's thriving downtown area. Its large forum, along with boasting the second largest indoor performing stage across the country, allows it to host any kind of small to medium scale event, ranging from awards shows and banquets, theater and musicals, and live music recitals and concerts.
You frequent this venue, want to receive gig alerts?
You're not a frequent visitor of this venue anymore.
NOKIA Theatre LA LIVE tour dates 2017
May 29, 2017 - Oct 21, 2017
Franco Escamilla in Los Angeles
NOKIA Theatre LA LIVE
Los Angeles
Tickets
Concerts at NOKIA Theatre LA LIVE
Saturday, 30 September 2017
Nelly hip-hop, rap, rnb
20:00
NOKIA Theatre LA LIVE Los Angeles
Tickets
Fabolous hip-hop, rap, hip hop
20:00
NOKIA Theatre LA LIVE Los Angeles
Tickets
Friday, 6 October 2017
R. Kelly rnb, soul, hip-hop
20:00
NOKIA Theatre LA LIVE Los Angeles
Tickets
Saturday, 7 October 2017
Bill Maher comedy, humor, political
20:00
NOKIA Theatre LA LIVE Los Angeles
Tickets
Sunday, 8 October 2017
J Balvin reggaeton, all, basura
20:00
NOKIA Theatre LA LIVE Los Angeles
Tickets
Friday, 13 October 2017
Caifanes rock en espanol, rock, rock mexicano
20:00
NOKIA Theatre LA LIVE Los Angeles
Tickets
Sunday, 22 October 2017
André Rieu classical, instrumental, andre rieu
20:00
NOKIA Theatre LA LIVE Los Angeles
Tickets
More concerts at NOKIA Theatre LA LIVE