Click the map to find places near the venue to get something to eat or drink: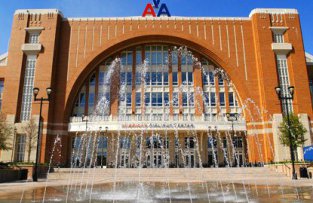 Dallas' American Airlines Center has been in business since 2001 providing music fans across the city with top-quality live concerts – constantly being ranked among the best venues in the United States, and the world! On top of hosting the top touring arena acts, the American Airlines Center is a true Dallas institute, as it is home ice to the NHL's Dallas Stars and home court to the NBA's Dallas Mavericks since opening its doors.
You frequent this venue, want to receive gig alerts?
You're not a frequent visitor of this venue anymore.
Concerts at American Airlines Center
Wednesday, 1 June 2016
Dallas Stars
11:59
American Airlines Center Dallas
Tickets
Friday, 3 June 2016
R. Kelly rnb, soul, hip-hop
08:00
American Airlines Center Dallas
Tickets
Saturday, 4 June 2016
Dallas Stars
11:59
American Airlines Center Dallas
Tickets
Sunday, 12 June 2016
Dallas Stars
11:59
American Airlines Center Dallas
Tickets
Buckethead experimental, guitar virtuoso, instrumental
20:00
American Airlines Center Dallas
Tickets
Friday, 17 June 2016
Dallas Stars
11:59
American Airlines Center Dallas
Tickets
Saturday, 18 June 2016
Joe Jonas pop, male vocalists, sexy
19:30
American Airlines Center Dallas
Tickets
dnce pop, joe jonas, dance
19:30
American Airlines Center Dallas
Tickets
Wednesday, 22 June 2016
Steve Winwood classic rock, rock, 80s
19:15
American Airlines Center Dallas
Tickets
Pierce the Veil post-hardcore, emocore, experimental
19:30
American Airlines Center Dallas
Tickets
Saturday, 25 June 2016
The Dan Band rock, indie, comedy
20:00
American Airlines Center Dallas
Tickets
Friday, 15 July 2016
Janet Jackson pop, rnb, female vocalists
20:00
American Airlines Center Dallas
Tickets
Tuesday, 19 July 2016
Violent Femmes alternative, rock, indie
20:00
American Airlines Center Dallas
Tickets
Thursday, 21 July 2016
Drake Future hip-hop, rap, rnb
American Airlines Center Dallas
Tickets
Drake Future hip-hop, rap, rnb
19:00
American Airlines Center Dallas
Tickets
Friday, 22 July 2016
Pitbull hip-hop, reggaeton, rap
American Airlines Center Dallas
Tickets
Prince Royce bachata, prince royce, latin music
03:30
American Airlines Center Dallas
Tickets
Farruko reggaeton, all, farruko
19:00
American Airlines Center Dallas
Tickets
Monday, 12 September 2016
Demi Lovato Nick Jonas pop, pop rock, female vocalists
American Airlines Center Dallas
Tickets
Wednesday, 14 September 2016
112 Diddy Faith Evans French Montana Puff Daddy Mase Carl Thomas Total The LOX Lil' Kim rnb, soul, hip-hop
20:00
American Airlines Center Dallas
Tickets
Carl Thomas rnb, soul, male vocalists
20:00
American Airlines Center Dallas
Tickets
Total russian rock, russian, female vocalists
20:00
American Airlines Center Dallas
Tickets
Tuesday, 20 September 2016
Carrie Underwood country, female vocalists, pop
07:00
American Airlines Center Dallas
Tickets
Sunday, 2 October 2016
Maná latin, rock, latin rock
20:00
American Airlines Center Dallas
Tickets
Friday, 14 October 2016
Keith Urban country, keith urban, singer-songwriter
American Airlines Center Dallas
Tickets
Brett Eldredge country, rock, alternative
03:30
American Airlines Center Dallas
Tickets
Maren Morris female vocalists, discoveries
19:00
American Airlines Center Dallas
Tickets
Sunday, 20 November 2016
Pentatonix The Duo a cappella, pop, futuristic
20:00
American Airlines Center Dallas
Tickets
Friday, 16 December 2016
MercyMe christian, christian rock, worship
07:30
American Airlines Center Dallas
Tickets
More concerts at American Airlines Center
Sunday, 29 May 2016
11:59
American Airlines Center, Dallas
Friday, 27 May 2016
20:30
American Airlines Center, Dallas
Tuesday, 24 May 2016
11:59
American Airlines Center, Dallas
Sunday, 22 May 2016
08:00
American Airlines Center, Dallas
Thursday, 19 May 2016
21:00
American Airlines Center, Dallas