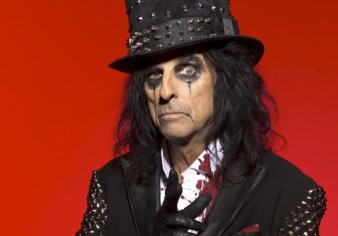 hard rock, classic rock, rock
I'm a fan
Alice Cooper, the rocker out of Detroit, has been a musician since the late 1960. Alice Cooper was first noticed for his talents by guitarist Frank Zappa while still in High School. Cooper joined forces with several musicians in 1970 and quickly became well known. With several musical hits including "I'm Eighteen" and "Schools Out" the Alice Cooper band was gathering attention.
In the mid 1970's Cooper decided to begin a single career and developed his own persona. Cooper is considered "The Godfather of Shock Rock." The stage presence that Alice Cooper developed his popularity for decades. The "Welcome to My Nightmare" album introduced the world to Alice Cooper's theatrical side.
Alice Cooper was inducted into the Rock N Roll Hall of Fame in 2011. Cooper has created many hits throughout the decades and toured with Rob Zombie in 2010. Cooper is one of the most recognized Rock icons after nearly five decades and still commands attention for hi creativity.
Read more
Alice Cooper tour dates 2016 U.S.
More Alice Cooper concerts
Alice Cooper has 24 concerts concerts scheduled in U.S. in 2016, playing cities like Hollywood, Indio, Valley Center, San Francisco, Reno, Portland, Bemidji, Ralston, Milwaukee, Indianapolis, Toledo, Lakewood, Tucson, Grand Prairie, Houston, Austin, Oklahoma City, New Orleans, Orlando, Fort Lauderdale, Atlanta, Huntsville, Louisville, Kalamazoo. The last time Alice Cooper played a show in U.S. was 2016, in Pittsburgh. Overall, Alice Cooper have played a total of 355 gigs in the country. If you're a Alice Cooper fan, there are similar bands with concerts coming up like Kiss, Twisted Sister, Def Leppard, Ace Frehley, Whitesnake, Quiet Riot.
Past Alice Cooper gigs
| | | | |
| --- | --- | --- | --- |
| Oct 19, 2016 | Queen Elizabeth Theatre Vancouver | Vancouver | |
| Oct 16, 2016 | South Okanagan Events Centre | Penticton | |
| Oct 15, 2016 | Canada Olympic Park | Calgary | |
| Oct 13, 2016 | Enmax Centre | Lethbridge | |
| Oct 12, 2016 | Conexus Performing Arts Center | Regina | |
| Oct 11, 2016 | Burton Cummings Theatre | Winnipeg | |
| Oct 09, 2016 | Sanford Center | Bemidji | |
| Oct 08, 2016 | Ralston Arena | Ralston | |
| Oct 06, 2016 | The Milwaukee Theatre | Milwaukee | |
| Oct 05, 2016 | Murat Theatre | Indianapolis | |
| Oct 04, 2016 | Stranahan Theater | Toledo | |
| Oct 02, 2016 | The Colosseum | Windsor | |
| Sep 30, 2016 | FirstEnergy Park | Lakewood | |
| Sep 29, 2016 | Santander Arena & Santander Performing Arts Center | Reading | |
| Sep 28, 2016 | Palace Theatre Albany | Albany | |
More Alice Cooper past gigs
Latest Alice Cooper news
Alice Cooper latest news, rumors and lineup confirmations.
Apr 22, 2015

Motley Crue Add 21 New October/December 'Final Tour' Arena Shows Prior to NYE in LA Finale.

LA hard rockers Motley Crue have been out on their Final Tour, playing gigs across the world, and the details of the final stretch are starting to come into focus.The band that brought you countless throughout the 80s and into the 90s and shows you all that excess had to offer is curre...

Jan 20, 2015

End in Sight for Motley Crue's 'Final Tour.' Metal Band Announce Final U.S. and Canadian Tour. Schedule Last Concert for December 31 in LA.

We've known for about a year that Motley Crue were calling it quits. But an extravagant, excessive, lavish metal band like that can't just step back into darkness. No, they need to go out with a bang, the biggest bang imagineaimaginableat's just what they're doing with the 'Final Tour...

Nov 06, 2014

Johnny Depp - Guitar Man. Watch Videos of the Actor's On-Stage Guitar Collaborations with Marilyn Manson, Aerosmith, The Black Keys, Willie Nelson, Paul McCartney, More.

The Kentucky-born, Florida-raised Johnny Depp has played some of the more iconic roles over the past twenty-five years. Bringing the characters of Edward Scissor Hands, Ichabod Crane, Hunter S. Thompson, George Jung, Willie Wonka, and the Keith Richards-inspired Captain Jack Sparrow in th...

Feb 05, 2014

Motley Crue Announces 'The Final Tour' with Alice Cooper. Signs Legal Agreement Promising to Never Tour Again! Not Breaking Up, However!

80s metal band Motley Crue announced last week their plans to step away from the rock and roll performing world while still on top of their game. They don't want to burn out like other acts from the 80s, or other generations, have.The Crue had an exciting 2013, as they had their own ...
Comments
Reply sent!
There are no comments yet. Leave yours!