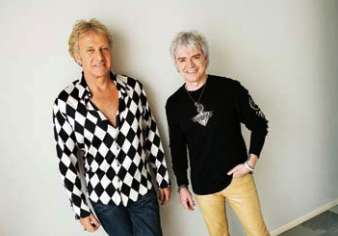 80s, pop, soft rock
I'm a fan
Air Supply is a duo started by Graham Russell and Russell Hitchcock back in 1976 when the two of them met while working on a production of Tim Rice's "Jesus Christ Superstar." They two became friends and worked well together. Graham is from England, and Hitchcock is Australian born. Neither of them could have foreseen the success that they would achieve together. Other members of Air Supply have come and gone over time, but these two are instrumental in providing Air Supply's unique sound. Their first multi-platinum album from 1980 was titled "Lost In Love." Their biggest hits include "All Out Of Love," "Even The Nights Are Better," and "Making Love Out Of Nothing At All." Air supply was first noticed by Rod Stewart, and opened for him on his Australia tour. Their outstanding concert performances earned them an opening spot on Stewart's United States tour. The way Air Supply got it's name is because both Russell and Hitchcock share "air" zodiac signs. Air Supply released their first music video "Air Supply Live In Hawaii" in 1985. The popularity of Air Supply's music waned in 1987, and they split amiably for three years. They reunited to play some festival type concerts with stops in Thailand, Singapore, Japan, Hong Kong and the Phillipines. They were very successful in Japan, but didn't have as much success the second time around in the United States. YouTube Video http://www.youtube.com/watch?v=6lE6Htee0sA
Read more
Air Supply tour dates 2014 U.S.
Latest Air Supply news
Air Supply latest news, rumors and lineup confirmations.
09 Jan

Ready to hit up some music festivals in 2012? Well, look no further 'cause we've done all the work for you! Take a look at the biggest festivals 2012 has to off...
Comments
Reply sent!
There are no comments yet. Leave yours!